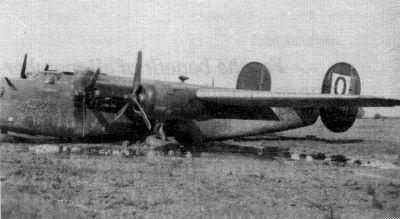 "Andy's Angel"
LT Louis Andrews picked up this B24 (#732) factory fresh from the Consolidated plant in Michigan. LT Andrews was the only pilot to fly #732 and was flying mission #20 on July 4, 1944 to Endhoven, the Netherlands. Flak damaged the left landing gear, but LT Andrews was able to safely return to Sudbury. Before the damage could be repaired the group transitioned to B17s, and #732 was transferred to the 2nd AD.
After the war LT Andrews was assigned to the Ferry Command at Romulas, MI, and happened upon #732. LT Andrews arranged to fly #732 for some night landing practice, and, being a Michigan native, buzzed his parents home 80 miles away in Lansing. (reprinted from the O&W N/L Summer '90)
Aircraft | Crews | Letters | Places | Strike
Copyright © 1998-2016 486th Bomb Group Association.