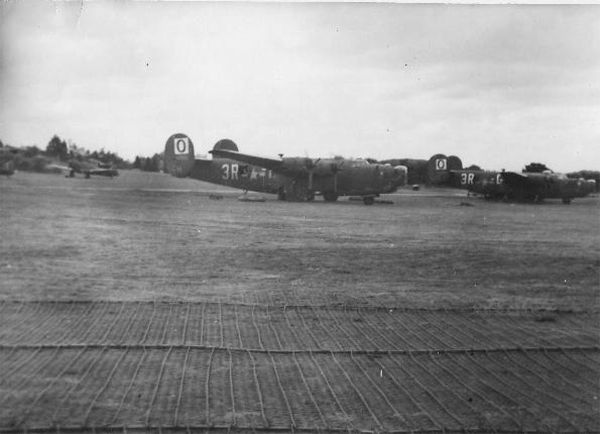 This view at Worthy Down shows 42-52682, 3R:H, and 42-52664, 3R:G, after making emergency landings in June of 44. The third aircraft in the background is a Percival Proctor used then by the Fleet Air Arm for training telegraphist air gunners. They were the normal occupants of the airfield at the time so there must have been some anxiety to see the B-24's coming in! Such events were not unusal. Records show that 19 P-38's also came in on another occasion as did a B-17. The pictures were taken by the Commander Flying Lt Cdr W H C Blake RNVR.
Worthy Down opened for the Royal Flying Corps in 1917 and eventually closed in 1960. Between the wars it was used by the RAF as a "Heavy" bomber base. The term "heavy" is relative. The aircraft were either Vickers Vimy biplane bombers or Vickers Virginias neither of which could exceed 100 mph. The American connection continued in 1944 when light observation aircraft - Stinson L-5's and Piper Cubs - of the US Army were based there in 1944 prior to going over to Normandy. Spitfires and Seafires were tested there during the period 1940-1944.
— Tony Dowling
Copyright © 1998-2016 486th Bomb Group Association.